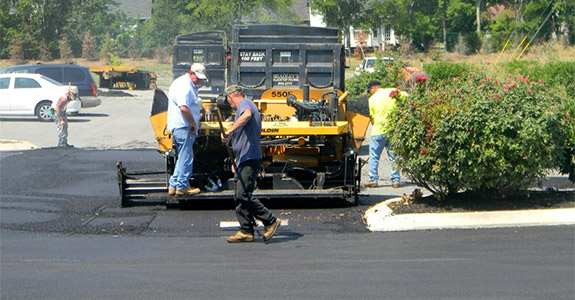 Whether you're a homeowner, business owner or property manager, odds are you have a driveway or parking lot that you and your friends, family, customers and anyone else who visits your property will need to be able to walk and drive on safely. If your asphalt pavement is crumbling, cracked, uneven or just plain old, your property won't look quite as inviting, and it may even pose a safety hazard. This is where Bradley Paving can help you. Since 1958, we've been providing quality parking lot and driveway paving in Murfreesboro, TN at prices our customers can afford. We're pleased to offer a number of services, including:
Residential paving services: If you're looking to repave your existing asphalt driveway in Murfreesboro, TN, call Bradley Paving. We'll turn old asphalt pavement into a beautiful, smooth new driveway. We can also create walkways, expand your existing driveway paving, and even patch problem areas.
Commercial paving services: Whether you have an existing parking lot or are looking to add a paved parking lot to your commercial property, Bradley Paving is here to do the job. Anything we'll do for our residential customers is something we'll do for our commercial paving clients, just on a larger scale.
Free estimates: We're pleased to offer free estimates on all our services. We know that you have options when it comes to asphalt paving services. That's why we want to be up front about what you'll be getting from us, and how much it will cost.
Other services: Bradley Paving offers a variety of additional services, including gravel hauling and, on rare occasions, we'll handle small road construction. The one thing we won't do is stamped asphalt. If you're wondering whether we're able to take on a particular job, just ask!
For the quality commercial or residential paving your property demands, contact us at Bradley Paving at 615-895-2777 or stop in and see us to learn more about how we can help turn your bumpy and crumbling old driveway into something you can look upon with pride.