Bradley Paving
Since 1958, Bradley Paving has specialized in providing quality paving services for residential and commercial purposes. For all of your parking lot, driveway and asphalt patching needs, call the family owned and operated paving professionals at Bradley Paving for a free estimate.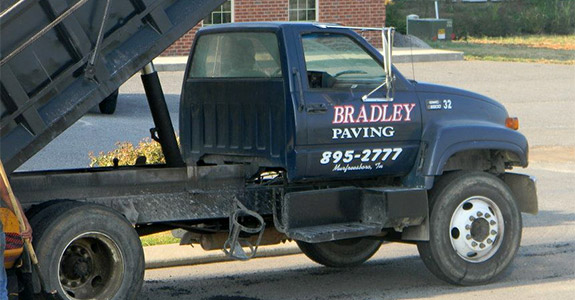 Quality Asphalt Paving in Murfreesboro, TN
When you're looking for a local company to handle a residential or commercial paving job, contact Bradley Paving. As a family owned and operated business, Bradley Paving has been providing long-lasting, high-quality asphalt paving in Murfreesboro, TN since 1958. We're able to handle a wide variety of jobs, and we'll even provide a free estimate so you understand what you'll be getting for your money. We know you have choices when you need a driveway repaved or a new parking lot put down. That's why our aim is always to make sure Bradley Paving offers competitive rates and quality work, providing every service we offer with a smile.
No matter how well your asphalt was originally laid down, and no matter how long it's held up, no pavement lasts forever. As experienced paving professionals for more than half a century, the team at Bradley Paving can have your driveway or parking lot looking new again, and better than ever before. When you trust us with a job, you can rest assured the task is in skilled and capable hands. For decades, when our friends and neighbors have needed paving in Murfreesboro, TN, they've known that the best name in town is Bradley Paving. Here's why:
We offer thorough and long-lasting asphalt residential and commercial paving services.
Our equipment and products are of the highest quality.
We can make an old, damaged driveway or parking lot look better than ever.
We've been a proud family owned and operated local business since 1958.
Our prices are competitive and transparent, and we offer free estimates.